The government digital landscape is evolving. As with many organisations, user platform expectation has increased and it's no surprise that people are demanding more from public services. People now expect public service platforms they interact with to be 'simple, joined-up and personalised' for all.
This year Hyland, in partnership with Surveys in the Public Sector, embarked on an extensive study that can support public bodies as they strive to deliver services fit for the current landscape and into the future.
This report aims to identify how central government stakeholders are approaching the digitisation of essential services for the here and now with a view to fulfilling the promise of government digitisation.
Read the full report – Future Proofing Public Services in 2022/23
In a recent webinar hosted by iGov, Inpute CEO Chris Howard and Hyland's Graham Lewis reviewed this report and discussed the key takeaways.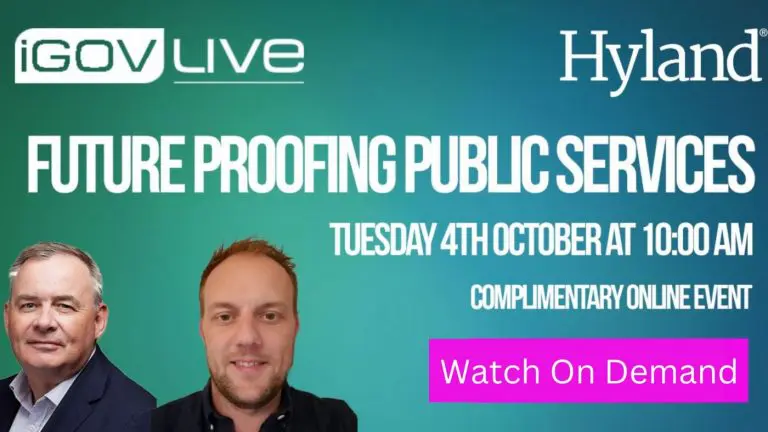 Key Takeaways
1. Adopt A Single Centralised View of Content
Adopting a single centralised view of content and data will help public services make better and more informed decisions. This study found that an overwhelming 95% of respondents agreed that having a single platform that can tap into existing systems to provide your workforce a centralised view of data and content was 'somewhat' (42%) or 'very important' (53%) to them.
The consolidation of all applications is crucial to a successful and functional organisation, this study highlighted the fact most government organisations use multiple solutions for various needs. Respondents rely on multiple solutions for 'business workflow automation' (63%), 'case management' (63%), 'content/records management' (63%), 'task management' (58%) and 'digital self-service' (47%).
2. Consider A Staged Process In Delivering a Centralised Content Platform
Consider a staged process in delivering a centralised Content Platform with manage in place federation to support your migration and help you determine information value.
With many respondents citing improved efficiency and subsequent ability of staff to focus on more strategic efforts (79%), teams must think carefully on how to execute their migration and what information will go into this centralised repository.
3. Identify Outcome Orientated Initiatives
Carefully identify, outcome orientated initiatives, that can be delivered and realised in smaller achievable milestones. This approach to digitisation also helps to relieve any hesitancy or internal concerns by illustrating the benefits and allowing teams to become more efficient and collaborative.
Chris Howard, Inpute CEO, highlights that in his experience the 'Big Bang' approach to digitisation rarely works and instead it should be about identifying outcome orientated initiatives.
4. Start Today!
Digitisation is upon us, so how do government agencies take these findings and implement them in their digital strategies? The first step is to embrace change, apply these key takeaways to your organisation and start today!
If you'd like more information about how a content services platform can benefit your organisation get in touch today by emailing solutions@inpute.com