How insurers can optimise processes for business gains

Event Information
Part 1: The Business Case - Tuesday, September 26th, 10:00 - 10:45
Part 2: Solutions In Action - Thursday, September 28th, 10:00 - 11:00
Join Inpute, Hyland and ABBYY for a two part webinar series to discuss the challenges and opportunities for process automation within the European insurance industry and how these are being met.
The first webinar will cover the business case for process automation, the challenges, the opportunities and why its important for your organisation. The second, more technical session, will consist of practical presentations and demonstrations based on successful insurance use cases.
Why you should attend this event:
Hear about the challenges and how they are being addressed by your peers across EMEA.
Gain comprehensive industry insights.
Secure expert speakers' perspectives.
Learn about implementation strategies.
See successful process automation solutions in action.
Live Q&A session.
Our panel of experts will discuss common industry challenges and opportunities including legacy systems integration, intelligent automation; omni channel interaction, governance, RPA/AI and optimising processes.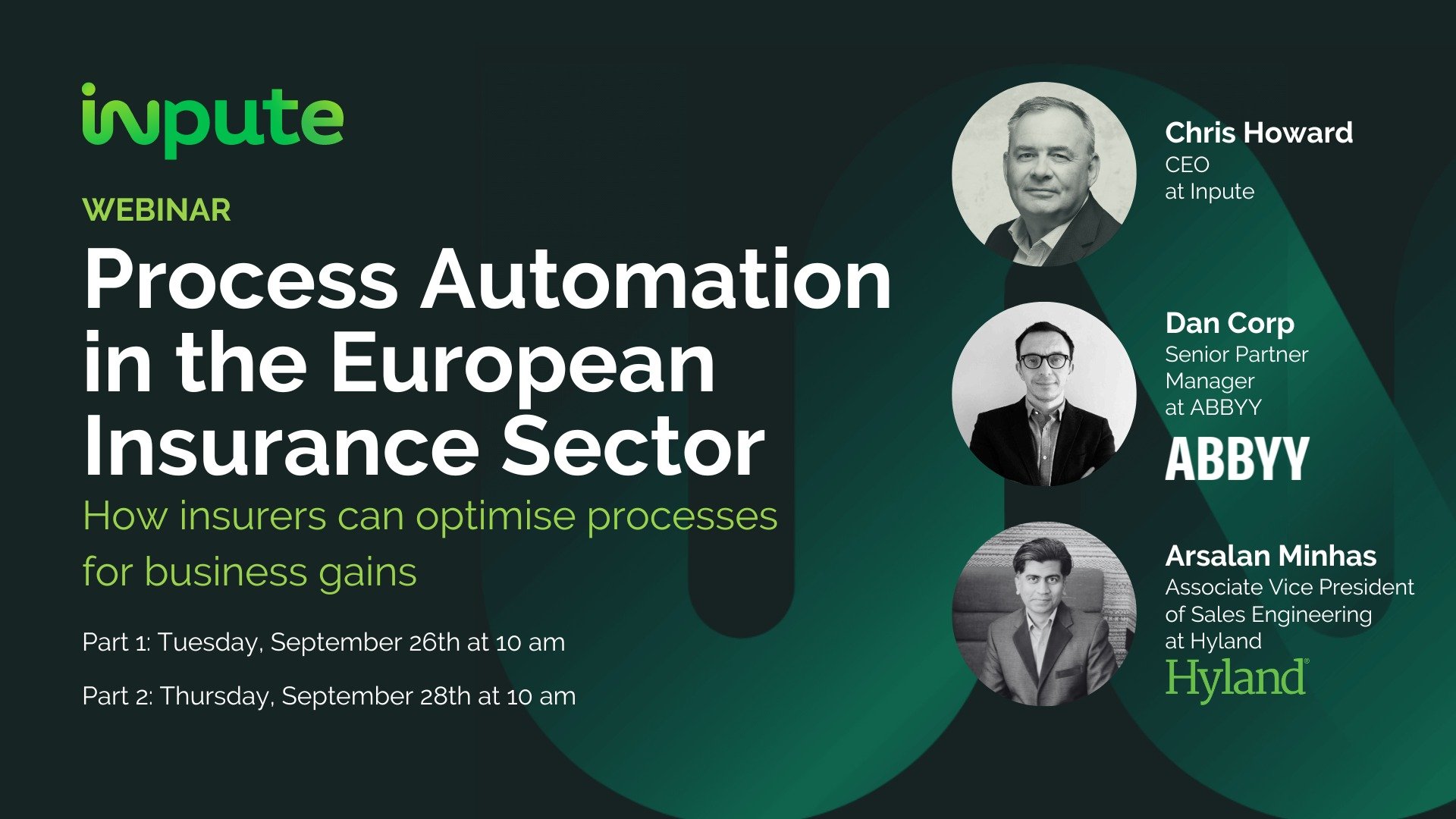 Hyland is a leading content services provider that has enabled over 550 global insurance organisations deliver better experiences to the people they serve. The Hyland platforms including OnBase and Alfresco provide secure, cloud-based content and digital process automation solutions across the lifecycle of insurance processes, starting in the mailroom and extending across policy and customer service, claims, compliance and back-office operations. These solutions are designed to unlock the value of content — inside and outside of core systems — across the insurance organisation.
ABBYY is a leader in Intelligent Document Processing (IDP) and process discovery & mining. ABBYY's platform enables organisations to gain a complete understanding of their business to help them make intelligent business decisions and drive significant impact where it matters most. They have helped hundreds of insurance organisations in strategically automating and digitizing policy and claims processes.
Part 1: The Business Case
Challenges and opportunities for the Insurance sector
Tuesday, September 26th at 10:00 - 10:45
Speakers: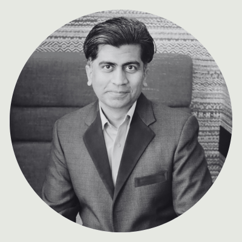 Arsalan Minhas
Arsalan Minhas is the Associate Vice President of Sales Engineering at Hyland with a responsibility of EMEA and APAC regions. For 20+ years he has been advising and consulting top executives of the global fortune 1000 companies to transform their business models, generate additional revenue streams and realise digital operations. His specialities include Insurance, Enterprise Information Management, Digital Process Automation, Content Services, Artificial Intelligence and Blockchain.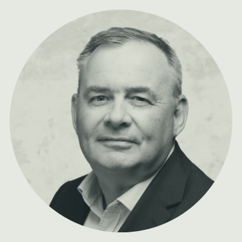 Chris Howard
Chris is the CEO at Inpute and has a wealth of experience and knowledge in the intelligent automation sector which spans more than 25 years. Chris is an expert in intelligent automation and in helping companies to streamline their processes to achieve tangible gains in efficiency and profitability. His speciality industries include Financial Services, Public Sector, Insurance and Logistics.
Part 2: Solutions in Action
Solutions to meet today's insurance challenges
Thursday, September 28th at 10:00 - 11:00
Speakers: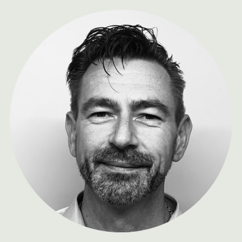 Neil Rayment
Neil is a self professed failed rock star so instead he is now doing the next best thing being a Solution Engineer with Hyland for the last 3 years, demonstrating the breadth and depth of the Alfresco software portfolio. He has had numerous pre and post sales roles within the Financial Services process automation industry over the last 25 years, including consultancy, design and implementation.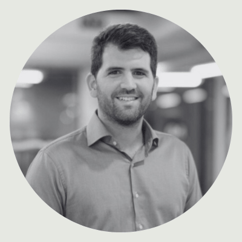 Carlos Alvite
Carlos is a Senior Solutions Consultant at ABBYY with over 12 years of experience in Information Technology he now specialises in Process Mining & Intelligent Document Processing. Carlos helps companies on their way to Digital Transformation, leading projects related to Process Mining, IT Strategy, Solution Architecture, Cybersecurity and Program Management in industries such as Insurance, Telecommunications, Energy & Utilities, Financial Services, Life Sciences, and Automotive.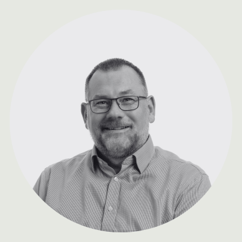 James Dickson
James recently joins Inpute from Hyland Software where he has worked for over seven years in a range of senior consultancy roles, including solution architect, principal consultant and more recently with Hyland's Customer Success Engineering team. Having worked in the content services marketplace for over 20 years and as a leading expert in Alfresco, James brings a wide breadth of experience to Inpute and to Inputes Alfresco practice.
Nick Carr
Nick is a Senior Solution Architect bringing over a decade of experience working with document centric processes to his presale's role at ABBYY. Previously leading operational and development teams, Nick has a comprehensive understanding of the challenges and complexities faced by businesses today where intelligent document processing is needed. His background and expertise in this area enables him to advise partners and clients on ABBYY's technology to address and overcome them.